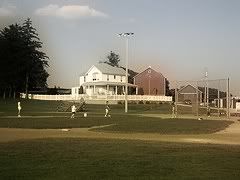 Last night, I got an e-mail from someone who said they were new to blogging and wanted some advice. I started writing their response and then it hit me. Kevin Costner was genius and understood blogging.

Do you remember the movie "Field of Dreams" with Kevin Costner? Well, the movie was about a man that mowed down his corn field and built a baseball field in right in the middle of corn season. He was on the verge of losing his farm in bankruptcy and everyone thought he was crazy. He kept hearing a voice that said, "If you build it, they will come."

Well, that was going to be my advice to the newbie about blogging. Just build it and they will come, just like they did in movie. At first everyone didn't see Kevin's vision and only a few people came to the field, just like when you start up your blog. But, by the end of the movie, there was a line of cars as far as the eye could see to pay Kevin to watch a baseball game in the middle of an Iowa corn field, which ending up saving his family from foreclosure.

What was the difference? He believed in what he was doing, no matter what anyone else told him, and as the movie went along he had more and more followers that believed in him and eventually got money for his vision.

That is what real estate blogging is all about! You, the future blogger, have to build your blog that no one besides yourself believes in, but over time you get a few more believers. Then one day, you have a line of people knocking at your blog asking you for advice on home buying and selling and you finally get paid for your work and save yourself from foreclosure.

What is the moral of this story? Be positive, grow and adapt, and you can succeed even when others are failing, you just have to believe even if you aren't seeing any results immediately! It really doesn't matter what you write about either, just like books in a book store, everyone has their own preference, there is no one secret formula. People hire people they feel they know, like, and have a good knowledge of real estate.

I, personally, try to let my humor shine through from time to time in my blogs. I like to write about my family, experiences, and I also write about real estate. Does everyone write like I do, well of course not! But, does it matter? No, not really they are getting business just like I am. The key is not to plagiarize, and write from your heart, not someone else's. If you believe in what you are doing it won't matter and your followers will come.

I truly believe that if you blog and continue with your other forms of advertising all you dreams can come true.

Welcome to your field of dreams, build and they will come!


Todd Clark - broker
Kastings & Associates
Phone: (503)524-9494
Fax: (503)622-8739
Todd@IFoundYourNewHome.com
www.ifoundyournewhome.com
Todd Clark (Broker/Owner)
The Friendly Home Team
Realty Pro, Oregon LLC
Todd@IFoundYourNewHome.com
Phone: (503)524-9494
Fax: (503)746-9573
    2011-2014
 I am a licensed Realtor who specializes in Washington County, Oregon and also work in both Clackamas and Multnomah Counties including the cities of Aloha, Beaverton, Canby, Clackamas, Gladstone, Gresham, Happy Valley, Hillsboro, Milwaukie, Oregon City, Sherwood and Tigard.
All information contained in these posts are copyrighted and cannot be used without prior written approval authorization
from the author me Todd Clark. If you are looking for an outstanding agent please give me a call I would love to help you with all your real estate needs.


What if there was a way you could search the  MLS for FREE just like Realtors
Now you can access the MLS using similar tools as Realtors. You are in control of what you want to search for, and you can search the MLS at your leisure. The information you submit in the form below can also be used to put you on an automated system where you'll be emailed all homes that meet your search criteria. You'll get internet access to a website that includes pictures, prices, and addresses to real estate that's listed in the MLS!