Beavertonhas many greatstores and many of those stores are right in Cedar Hills Crossing.Now,if youused to be from this area and are wondering where this mall is, this isthe oldBeaverton Mall with a new facelift and boy did the new anchor storeshelp!
Asthe old Beaverton Mall, itwas starting to look old and run down. Shopping was downas well andthere weremany vacancies. But, then they remodeled it, brought in some new storesandCedar Hills Crossing was born. It really has brought new life to thearea. Homeprices in the area started to rise, people started showing up at themall, andwhat few gangs we do have also stopped showing up.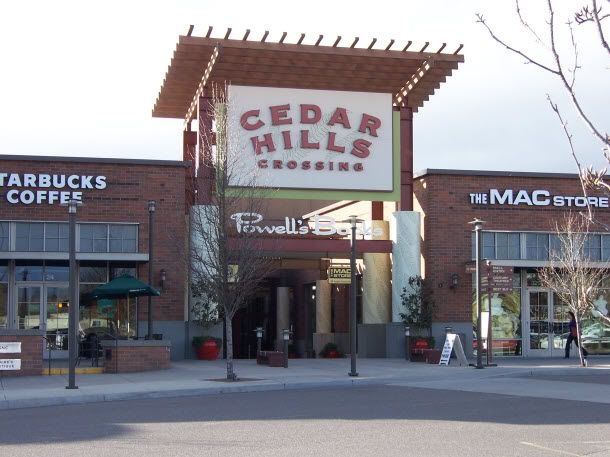 Also, because of the newCedar Hills Crossing, the world's biggest bookstore,Powell's Books, put a store in Cedar Hills Crossing. Powell'sis wellknown inPortland and around the world for being the world's largest book store,takingup two city blocks in Portland. Bringing a store out to Beaverton was agreatboost to the area, but a real hit to my budget as both my wife anddaughter areavid readers.
Thereis also a new movietheater behind the mall and boy the stadium seating is awesome!Thereis noproblem seeing over the person in front of you and the seats are socomfortable, some of the most comfortable I've ever sat in at a theater.
So,if you are looking for anew and hip mall or just a place to go on a date and see a movie, Isuggest youcheck out the remodeled Cedar Hills Crossing.
Now fora littlebit a history: Cedar Hills Crossing / Beaverton Mall usedto be the site of theairport. As the area grew, the airport was taken out to put in themall. At thetime of destruction, the Beaverton airport was the oldest operatingairport inthe state. (Information and picture courtesy of City of Beavertonwebsite)
Respect Realty LLC (Expect More)
At Respect Realty, LLC our agents believe in 100% dedication to client satisfaction.  We specialize in property and land acquisition around the Portland Metro and Vancouver, WA area. We delight in working with first time home buyers and sellers to guide them from start to finish. Our doors are always open and we are always happy to assist you with your real estate questions.
Reach out today, we look forward to talking with you!
Todd Clark and Seraina Aguayo (Owners of Respect Realty)
Respect Realty LLC (Expect More)
(503)564-3130
Thinking of buying? Start your home search by clicking here
Thinking of selling? Find how much your home is worth by clicking here
Don't forget to follow us on Social Media to keep up with the latest real estate information