Beaverton Oregon real estate home sales are up on average, only by a little, but neighborhoods like Sorrento Ridge are the reason for the rise in sales. The Sorrento Ridge neighborhood of
Beaverton, Oregon
goes east from Murray to Hall Blvd
and then South from Hart Road to Brockman/Greenway Road. Hyland Forest park is the only park in the neighborhood.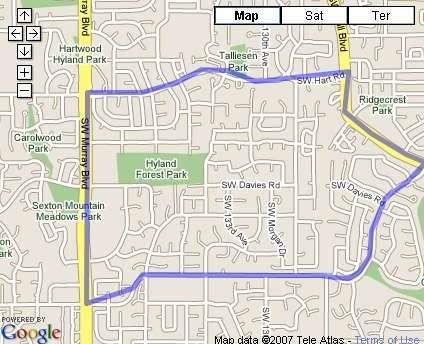 View Larger Map
As of 08/28/2009 here are the real estate home sales stats for the Sorrento Ridge Neighborhood of Beaverton, Oregon
. This week I've changed the stats to only count the sales from the last 7 days to give a better reflection of what is going on in the neighborhood during any given week.
| | |
| --- | --- |
| Total number of homes for sale: | 67 |
| Average List Price: | $263,186 |
| Average Days on Market: | 94 |
| | |
| --- | --- |
| Total Pending home sales: | 21 |
| Average List Price: | $232,519 |
| Average Days on Market: | 42 |
| | |
| --- | --- |
| Total Expired Home Sales Last 7 days: | 0 |
| Average List Price: | $000,000 |
| Average Days on Market: | 0 |
| | |
| --- | --- |
| Total Sold in the last 7 days: | 1 |
| Average List Price: | $334,900 |
| Average Sold Price: | $337,000 |
| Average Days on Market: | 54 |
For a complete list of homes for sale in the
Sorrento Ridge Neighborhood of the Beaverton Oregon real estate market, please call or
Click here
, to request an update.
If you are interested in selling your home for top dollar in the quickest amount of time, please contact me anytime at 503-524-9494 or
Click here
to send me an e-mail requesting further information.
Todd Clark – Broker / Sales Coach
Palazzo Realty Group
Phone: (503)524-9494
Fax: (503)622-8739
Todd@IFoundYourNewHome.com
www.IFoundYourNewHome.com
©2009 Todd Clark - Beaverton Oregon Real Estate and more: Beaverton Oregon home sales (Sorrento Ridge Neighborhood) (08/28/2009)
Todd Clark (Broker/Owner)
The Friendly Home Team
Realty Pro, Oregon LLC
Todd@IFoundYourNewHome.com
Phone: (503)524-9494
Fax: (503)746-9573
    2011-2014
 I am a licensed Realtor who specializes in Washington County, Oregon and also work in both Clackamas and Multnomah Counties including the cities of Aloha, Beaverton, Canby, Clackamas, Gladstone, Gresham, Happy Valley, Hillsboro, Milwaukie, Oregon City, Sherwood and Tigard.
All information contained in these posts are copyrighted and cannot be used without prior written approval authorization
from the author me Todd Clark. If you are looking for an outstanding agent please give me a call I would love to help you with all your real estate needs.


What if there was a way you could search the  MLS for FREE just like Realtors
Now you can access the MLS using similar tools as Realtors. You are in control of what you want to search for, and you can search the MLS at your leisure. The information you submit in the form below can also be used to put you on an automated system where you'll be emailed all homes that meet your search criteria. You'll get internet access to a website that includes pictures, prices, and addresses to real estate that's listed in the MLS!