When I was 14, my family had a scary situation happen that could have turned out much worse than it actually did and for most it does. Let me tell you the story and I hope you learn from others, including my family.
It was a cold morning in November, and as usual, my dad had built a fire in the fireplace to heat the house prior to everyone heading off to school. We had built his house from the ground up and it had now been 7 years since we moved in. Through out those 7 years we had many fires, just like the one we had that morning. But, what we had never done during those summer months when we were not using the fireplace was hire someone to clean it.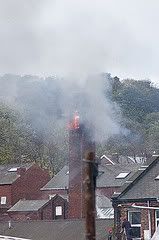 Well, that morning when walking out to the school bus, my friends starting yelling to me that there were flames coming from our chimney. Yep, you guessed it we had a chimney fire. Lucky for us, before I had a chance to get the rest of my family out, a neighbor had already called the fire department. We all got out safe and the fire department put out the chimney fire, before any of the rest of the house was damaged. They told us to get it cleaned before we tried starting another fire or it could happen all over again.
For more home safety tips, feel free to call or e-mail me anytime.
Respect Realty LLC (Expect More)
At Respect Realty, LLC our agents believe in 100% dedication to client satisfaction.  We specialize in property and land acquisition around the Portland Metro and Vancouver, WA area. We delight in working with first time home buyers and sellers to guide them from start to finish. Our doors are always open and we are always happy to assist you with your real estate questions.
Reach out today, we look forward to talking with you!
Todd Clark and Seraina Aguayo (Owners of Respect Realty)
Respect Realty LLC (Expect More)
(503)564-3130
Thinking of buying? Start your home search by clicking here
Thinking of selling? Find how much your home is worth by clicking here
Don't forget to follow us on Social Media to keep up with the latest real estate information