I write this because of a couple, that I helped find a new home for, decided they wanted to use a lender that they met one day before me and I had never heard of. They decided to go with this lender because he offered them a loan payment of $1864 per month versus the $1919 from one of my preferred lenders, and $1923 from another.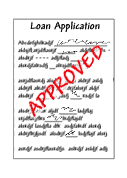 Knowing I had never heard of this lender, I was willing to give him a shot for the benefit of my clients, because $50 is $50 in a client's eye. After going over the good faith estimate with my client, I didn't see anything out of the ordinary, and it looked like he was actually going to save them $50 per month.
Well, let us fast forward a few weeks, to one week before closing. The lender decides to go on vacation and didn't tell anyone. We found out by going to his office and talking to a co-worker.
Then, the week of close, we get a call from the lender saying that we are going to have to put in an extension because the paperwork isn't done yet. Imagine that, you went on vacation and came back a day before closing and couldn't get it done.
So, another three weeks pass, and we have an upset seller, an upset buyer and a transaction that I think may fall apart thanks to this guy. The sellers decide to give us one more week and then we are going to have to forfeit the earnest money and walk away. My clients are a little nervous at this point, but sign the document and do a lot of praying.
With one day to go the documents show up at closing and everyone is happy, the sellers sign and one hour later my clients and I show up to sign their life away for their dream home. That is when we see it. What do you mean that this is an adjustable rate mortgage and the payments are $3012 per month? Yes, you read that correctly! Over $1000 more than the good faith estimate that was to be at a fixed rate of 6.5%!
To make a long story short, my clients lost their home, and a $1,000 earnest money deposit all over a mortgage broker that I had never met and will never recommend again! The good faith estimate was no good at all. My client has since started working with one of my preferred lenders and is now willing to pay the $1919 per month and knows that it will close and the good faith estimate will be worth the piece of paper it was written on.
So if you are looking to buy a home and want to make sure the loan closes, I suggest you ask your agent if they have a list of lenders they have worked with in the past that they trust. Lenders have to earn an agent's trust before they will refer them to a valued client as they know their check is on the line, just as much as your dream home is on the line, so they won't steer you wrong.
Todd Clark 
(Principal Broker)